Title:
Nowhere But Here
Author:
Katie McGarry
Series: Thunder Road #1
Genre: contemporary, young adult
Release: May 2015
An unforgettable new series from acclaimed author Katie McGarry about taking risks, opening your heart and ending up in a place you never imagined possible.
Seventeen-year-old Emily likes her life the way it is: doting parents, good friends, good school in a safe neighborhood. Sure, she's curious about her biological father—the one who chose life in a motorcycle club, the Reign of Terror, over being a parent—but that doesn't mean she wants to be a part of his world. But when a reluctant visit turns to an extended summer vacation among relatives she never knew she had, one thing becomes clear: nothing is what it seems. Not the club, not her secret-keeping father and not Oz, a guy with suck-me-in blue eyes who can help her understand them both.
Oz wants one thing: to join the Reign of Terror. They're the good guys. They protect people. They're…family. And while Emily—the gorgeous and sheltered daughter of the club's most respected member—is in town, he's gonna prove it to her. So when her father asks him to keep her safe from a rival club with a score to settle, Oz knows it's his shot at his dream. What he doesn't count on is that Emily just might turn that dream upside down.
No one wants them to be together. But sometimes the right person is the one you least expect, and the road you fear the most is the one that leads you home.
My thoughts on this book are kind of all over the place. There are things that I liked, there are other things that I didn't like as much. It's didn't quite fulfil my craving for a good summer contemporary. This is also my first McGarry book and I have read lots of positive feedback on her other books. The expectations might have been high, though the fact that this series is about a motorcycle club did make me hesitate. Nowhere But Here tries to break through stereotypes surrounding motorcycle clubs though.
The
romance was greatly written
. I love how Katie McGarry has you rooting for the main characters from the start. I wasn't that invested in the characters though. I didn't like Oz per sé and Emily didn't stand out to me either. None of the characters I really liked. I'm not saying they weren't nice people though. I just didn't feel connected to any of them. Oz, along with the other guys his age in this book, are portrayed as 'bad boys' and 'guys that don't fall for good girls' - in other words: clichés. I'm not too big a fan of the
bad boy cliché
. After reading quite a few books with bad boys in it, the kind that goes all soft for some 'special girl', you kind of grow tired of it.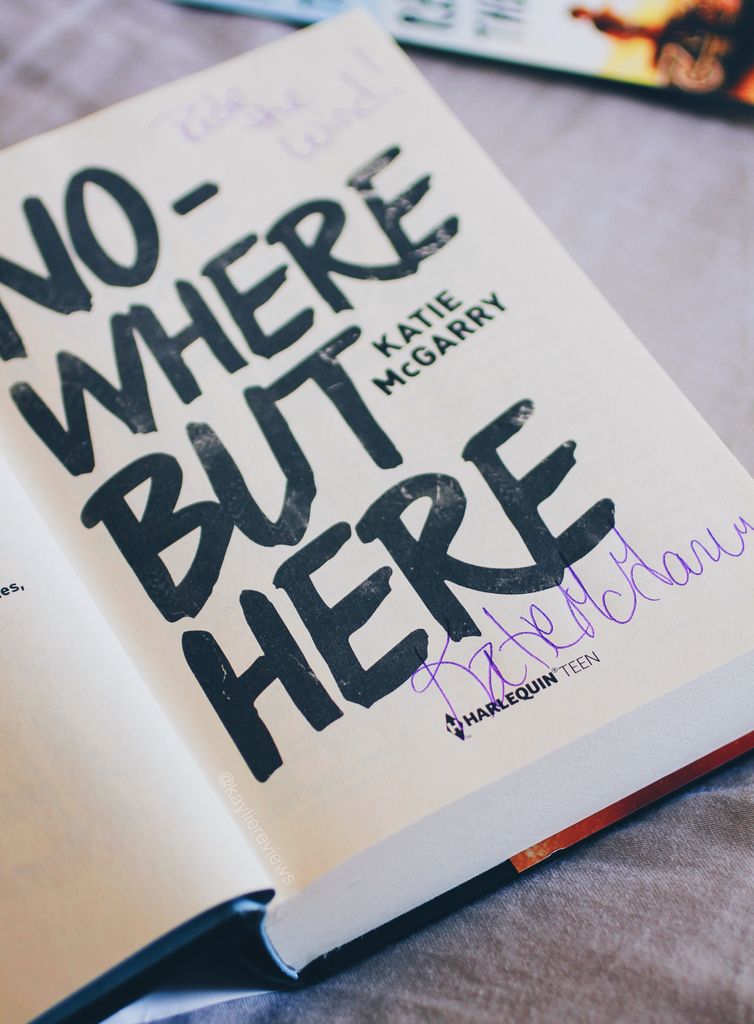 I also got kind of annoyed by the way these characters talked. These characters are 17, which is starting to feel like a lifetime ago and it's getting hard relating to characters that age BUT I do know how 17-year-olds talk. Here's the thing: in every conversation someone has to say something like "like I told you before"/"as I said"/"it's like I said before". What teenager talks like that?! It happened so many times that it got on my nerves. This is something minor though. I also think this is just me. I just want 17-year-olds to talk like 17-year-olds and not old ladies.
The thing that bothered me the most is the drama though.
SO. MUCH. DRAMA.
It felt like I was reading a contemporary set in a high school with hormonal teenagers sometimes, that's how dramatic it got. Emily is basically living a lie. Her mom lied to her about her biological father and his family AND about hers (this isn't a spoiler). There are so many lies about this family that it had me rolling my eyes. If certain characters just told the truth for the start, there wouldn't have been so much going on and certain events would not have taken place. The going back and forth just annoyed me so much. I imagined myself in Emily's place quite a few times and I know I would have exploded about 20 times because of the lying. ALL THE LIES. I just wanted her to get mad for once.
So, obviously
family is an important aspect
of this book. I like that - it doesn't have to solely be about 2 people falling in love. There's a big cast of characters. I'm not that interested in Razor's story (Walk the Edge, book #2) since he's described as the baddest boy of the bad-boy-club and I'm just not down for that. I would like to know what happens with Chevy and Violet but I'm not sure if I'll pick up the book. I guess we'll see if I want to give this series another try next year. For now I've had enough of the drama on Thunder Road.
---
Have you read Nowhere But Here? What are your thoughts on the book?