There are times when I can write reviews that are over a thousand words and there are times where my reviews are short and sweet. Today I'm sharing my mini reviews of three of the books I've read in August. One of which is a comic and one that I had to skim through because I didn't enjoy it at all.
---
The Mighty Avengers, Vol. 1: The Ultron Initiative
Title:
The Mighty Avengers, Vol. 1: The Ultron Initiative
Author: Brian Michael Bendis
Illustrator: Frank Cho
Series: The Mighty Avengers #1
Published: April 2008
The wait is over! The Mighty Avengers assemble! Gathered together to be the greatest Avengers team ever, but who picked them? And why? And which A-list Avengers villain returns, revamped and reloaded for the ultimate revenge.
Starting out with this comic book might not have been one of my brightest ideas but I sure did enjoy it! I got to know loads of new characters I've never read about before or had ever even heard about. I think the Wasp was the most interesting one but that might be because this is the only Avenger you really get a background story on.
It felt a little like you were already supposed to know all the other Avengers (which is probably the case since this is like the 653868th comic about the Avengers so...) before you started this story. You do get a little information about all of them in the beginning though but nothing to give these characters depth and a context to place them in.
So, The Ultron Initiative is basically about Ultron and as someone who has not seen the latest Avengers movie yet, it wasn't exactly clear to me what the hell this Ultron is supposed to be. Again there's a little information (about who created Ultron in the first place) but it doesn't go into details. To understand everything I had to look it up on the internet.
Even though I felt a little out of the loop, I could still enjoy this comic and I would continue with this series. There are new characters (Spider-Woman, Elektra Skrull,...) and a new "problem" to deal with and I'm really curious and intrigued. If you, like me, are a complete comic book noob, don't start with this series though because it's rather confusing.
---
The Wise Man's Fear by Patrick Rothfuss
Title:
The Wise Man's Fear
Author: Patrick Rothfuss
Series: Kingkillers Chronicles #2
Genre: adult, high fantasy
Published: April 2013
"There are three things all wise men fear: the sea in storm, a night with no moon, and the anger of a gentle man."
My name is Kvothe. You may have heard of me.
So begins the tale of a hero told from his own point of view- a story unequaled in fantasy literature. Now in The Wise Man's Fear, Day Two of The Kingkiller Chronicle, Kvothe takes his first steps on the path of the hero and learns how difficult life can be when a man becomes a legend in his own time.
A lot of questions are being raised (about the Chandrian, the Amyr, etc.) and I was interested to see if and when they would be answered. In The Wise Man's Fear we see a lot more of this world and learn more about the people that live in it and their cultures. However, I thought this book had quite a few moments that were extremely slow.
In the beginning I liked Kvothe. He's a genius but far from perfect. But then the whole sequence with Felurian came around and Kvothe changed and after that I really didn't like him anymore. I didn't feel connected to his character anymore and rolled my eyes several times at his actions. I feel like Kvothe became a whole different person after his encounter with Felurian and that's one of the main reasons why it took me so long to get through this book.
The magic system is quite complicated and diverse. After reading so many pages of Kvothe at the University and the magic that's been thaught, it's still not very clear to me. You learn a lot about it though in The Wise Man's Fear and you also learn about the name of things and how naming works.
In short, The Wise Man's Fear started out really good but a few things happened along the way that threw me off and made reading this book more like a chore than anything else. In the end I skimmed the last 300 pages. I didn't want to DNF this book but I knew I wouldn't finish it either so I just skimmed. I know what happens but not the details and that is fine with me.
---
A Darker Shade of Magic by V.E. Schwab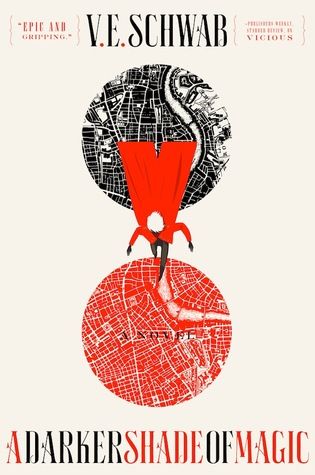 Title:
A Darker Shade of Magic
Author: V.E. Schwab
Series: A Darker Shade of Magic #1
Genre: adult, fantasy
Published: February 2015
Kell is one of the last Travelers—rare magicians who choose a parallel universe to visit.
Grey London is dirty, boring, lacks magic, ruled by mad King George. Red London is where life and magic are revered, and the Maresh Dynasty presides over a flourishing empire. White London is ruled by whoever has murdered their way to the throne. People fight to control magic, and the magic fights back, draining the city to its very bones. Once there was Black London—but no one speaks of that now.
Officially, Kell is the Red Traveler, personal ambassador and adopted Prince of Red London, carrying the monthly correspondences between royals of each London. Unofficially, Kell smuggles for those willing to pay for even a glimpse of a world they'll never see. This dangerous hobby sets him up for accidental treason. Fleeing into Grey London, Kell runs afoul of Delilah Bard, a cut-purse with lofty aspirations. She robs him, saves him from a dangerous enemy, then forces him to another world for her 'proper adventure'.
But perilous magic is afoot, and treachery lurks at every turn. To save all of the worlds, Kell and Lila will first need to stay alive—trickier than they hoped.
There's a clear explanation of the magic in this world, how the travelling works and what the difference is between the different Londons. You get this information early on in the book which made reading ADSOM much easier. Sometimes you get crumbs here and there through the book about what's going on but in A Darker Shade of Magic it's all out there from the start. Throughout the book you keep learning more though but the essence of how the magic system works is already explained.
Again, from the beginning questions are being raised which kept it interesting but we didn't get many answers. The book ends with just the tiniest hint at a sequel, one I will definitely read. I have to say that I would have liked to know more about the main characters but I assume we'll get all that information later on. The characters didn't stand out to me, they weren't extraordinary and it felt like I had already read about characters that are similar. You know what I mean?
A Darker Shade of Magic was a different kind of fantasy read and that's probably what made me like it so much. There's not really a romance going on. It doesn't happen often and I found it refreshing. The story didn't sweep me off my feet though, it didn't make me feel "extreme" emotions like The Raven Cycle or Throne of Glass did (not that they are comparable in any way).
---
Have you read any of these books? What did you think of them?