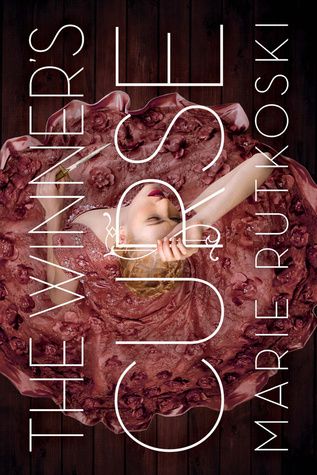 Title:
The Winner's Curse
Author:
Marie Rutkoski
Series: The Winner's Trilogy #1
Published: March 2014
Winning what you want may cost you everything you love

As a general's daughter in a vast empire that revels in war and enslaves those it conquers, seventeen-year-old Kestrel has two choices: she can join the military or get married. But Kestrel has other intentions.

One day, she is startled to find a kindred spirit in a young slave up for auction. Arin's eyes seem to defy everything and everyone. Following her instinct, Kestrel buys him—with unexpected consequences. It's not long before she has to hide her growing love for Arin.

But he, too, has a secret, and Kestrel quickly learns that the price she paid for a fellow human is much higher than she ever could have imagined.

Set in a richly imagined new world, The Winner's Curse by Marie Rutkoski is a story of deadly games where everything is at stake, and the gamble is whether you will keep your head or lose your heart.
The Winner's Curse was a very fast-paced book, which is something I always like. But after the happenings around the middle of the book I felt like the story got stuck and we didn't move forward for a while. Some scenes came and went very fast while others were stretched out and could've been much shorter. I also wished there was more world-building. I had a very hard time forming an image of what this world looked like, what the people were wearing, what the houses looked like, etc. We don't get any history about this world and I am confused: are there only Valorians and Herrani in this world?
Kestrel is a very
likeable character
, one I really enjoyed reading. She's super smart, a strategist and not someone to mess with. Unlike a lot of heroines, she not a fighter. Her combat skills are mediocre but she can get herself out of a fight with her common sense and her strategising. Yet, after the events halfway through she started to disappoint me.
Luckily there was
no insta-love
in this book. Kestrel and Arin had to warm up to each other and it didn't feel rushed at all. It did happen within the first half of the book though. I also didn't see why Kestrel would fall for a guy like Arin. I mean, what is there to like about him? In the beginning he is extremely hostile and only after a long while does he get friendlier. But he doesn't seem to have any character traits or whatever that made him likeable or loveable.
Categorizing this book is hard because it has the element of an entirely different and new world than ours so The Winner's Curse could be a
fantasy
. On the other hand: there is no magic system, nothing out of the ordinary which makes this book a
historical fiction
as well. I'm not comfortable classifying this book as a fantasy nor as a historical fiction novel so let's not classify this book at all.
I really wanted to love this book but some things just didn't feel quite right. If I'll read the sequel is a question I don't yet know the answer to but right now I'm leaning towards a 'no'. I rated The Winner's Curse
3.75 out of 5 stars
.